"The French also struggle with the word squirrel (Fiver letters passim). I had a Swiss, French-speaking girlfriend. i made a decision to call our wifi network 'Squirrel', because it amused me when she tried to mention it. She's an ex now. I'll get my coat" – Andy Beller.
"When i used to be an English assistant during a French lyceum within the early-90s, getting the youngsters to mention 'squirrel' was an excellent source of amusement. Of course, they absolutely loved my pronunciation of 'écureuil'. I'd call that a score draw" – David Kenning. judi bola online https://www.judibolaterbaik.co
"Re: Friday's Quote of the Day. I can't help but feel that 'cojonesball' are some things of a tautology" – Jim Hearson.
"Many because of all at Fiver Towers for helping me promote my football noir by making it the prize o'the day all last week. The stats don't lie: I even have sold zero books in spite of (or because of) your help. continue the work" – Robi Polgar.
Send your letters to the.boss@theguardian.com. And you'll always tweet The Fiver via @guardian_sport. Today's winner of our letter o'the day is … Jim Hearson, who wins a replica of the Blizzard's: the simplest of the primary Five Years, signed by editor and Fiver colleague Jonathan Wilson. And if you wish what you see, you'll buy or subscribe it here. We've more to offer away all week.
Football Weekly is here. And we've got tickets on sale now for subsequent live show in London.
A third man has been arrested over the death of Jordan Sinnott, who died after being attacked during an evening out. The 25-year-old, who was on loan at Matlock Town from Alfreton, was found unconscious in Retford at 2am on Saturday.
Amnesty International has criticised a possible Saudi takeover of Newcastle United. "Players, backroom staff and fans alike need to see this for what it's – sportswashing, plain and straightforward ," said its UK head of campaigns, Felix Jakens.
Eintracht Frankfurt have posthumously stripped the title of honorary president from Rudolf Gramlich after an investigation into his involvement with the Nazi regime before and through the second war .
Manchester United are considering a fresh bid for Sporting's Bruno Fernandes, with negotiations set to be ramped up before Friday's 11pm GMT transfer deadline.
West Ham are sniffing around a loan deal for Tottenham's Kyle Walker-Peters and are in advanced talks with Slavia Prague over €20m-rated midfielder Tomas Soucek.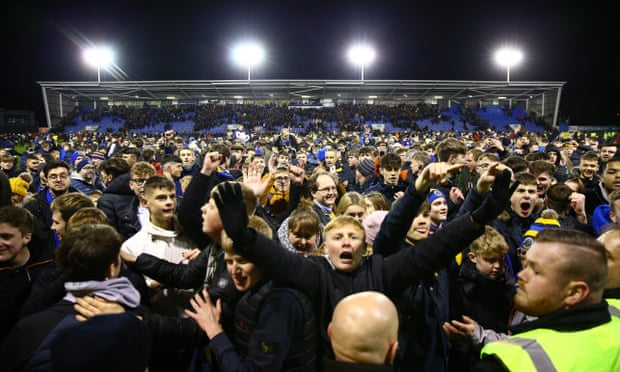 Jean-Kévin Augustin may be a Nasty Leeds player, having completed a loan switch from Leipzig.
And to the fun and games in South America dept: VAR had a rough debut within the Colombian championship after it took almost 10 minutes to rule on Ivan Duque's red card for Millonarios against Deportivo Pasto … before downgrading it to a yellow. "I know they're barely starting out with it here, but it's an extended time," sniffed Millonarios coach Alberto Gamero after his team's 2-1 defeat.
Nicky Bandini is back together with her latest Serie A blog, as Ashley Young helps heat up the title race.
Leipzig had a rude awakening in Frankfurt, as Andy Brassell explains.
Come and obtain your 10 FA Cup fourth-round talking points.
Jonny Weeks picks out the simplest FA Cup photos from the weekend that was.
Twenty-five years on, memories of Cantona and "the hooligan". By Rob Smyth.
The Club World Cup isn't about football – it's about making the rich even richer, writes Jonathan Wilson.
Paulo Dybala gets his chat on with Sid Lowe.
A night of sorts for Paul Doyle with Kylian Mbappé.